Uzo Anucha
Uzo Anucha, Associate Professor in the School of Social Work and the founding Director of the Applied Social Welfare Research and Evaluation Group. Dr. Anucha conceptualizes her applied research scholarship as a community dialogue that must fully engage the community studied. She actively seeks to bridge the gap between knowledge production and knowledge use by translating and disseminating research findings to end users (policy-makers and practitioners) using multiple channels. She frequently presents her work in diverse forums that are accessible to communities, agencies and policy makers.
Read more about Professor Anucha here.
Project title: "Data and stories for action: A multi-method evaluation strategy for RPSM programs for youth"
---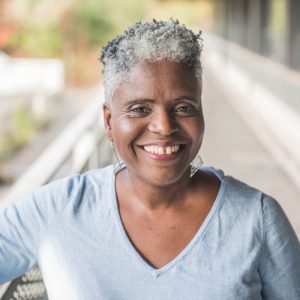 Prof. Karen Burke
Former Helen Carswell Research Chair
Karen Burke is a professor of music at York University. Her music career also includes work as a busy guest speaker and conductor, adjudicator and clinician offering gospel music workshops. She is co-founder and Artistic Director of the Toronto Mass Choir (TMC), a Juno award-winning gospel choir which has recorded 12 albums and toured in ten different countries including Italy, Romania, Poland, and the Dominican Republic. In 2006, Burke established G.I.V.E. (Gospel Inter-Varsity Explosion), which is an annual gospel music festival to educate, encourage and showcase gospel choirs at post-secondary institutions. In 2013, Prof. Burke established the City Youth Gospel Project, a gospel music festival designed exclusively to teach and share gospel music to hundreds of middle and high school students and their teachers at a time.
In 2016, York University appointed Prof. Burke as the Inaugural Fellow for the Helen Carswell Chair in Community Engaged Research in the Arts providing leadership for community engaged research in the Jane and Finch community, in particular, to assist the Regent Park School of Music- Jane & Finch and other community arts organizations.
Email: burkek@yorku.ca
Website: https://karenburke.ca
---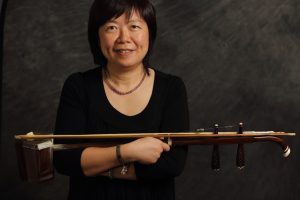 Patty Chan
Patty Chan is a second-generation Chinese Canadian erhu musician, educator, and author. She is the Music Director of the Toronto Chinese Orchestra, Co-Founder of the cross-cultural PhoeNX Ensemble, and Director of Centre for Music Innovations (musinno.com).
As an erhu musician, Patty has collaborated with many ensembles and organizations, including the Strings of St. John's, Red Snow Collective, the Toronto Masque Theatre, and the Canadian Children's Opera Company. She has performed in world premieres of theatre/opera productions such as Red Snow (2012), The Lesson of Da Ji (2013), Comfort (2016), and The Monkiest King (2018). Patty's composition, Redemption: The Chan Kol Nidre (2015) for erhu and viola da gamba has been added to the archives at the Beit Hatfutsot in Tel Aviv, a museum for the Jewish people.
Patty has taught erhu and Chinese music at York University, Ryerson University, and Carleton University. She has led and participated in music exchanges and tours in Canada and Asia. Patty has written several books about the erhu that have sold in over 30 countries, and a storybook in three languages about Chinese instruments for children. She is also currently creating a Chinese music database for English readers at the Centre for Music Innovations in partnership with the Little Giant Chinese Chamber Orchestra in Taiwan.
An MA graduate in ethnomusicology, Patty's area of research is in the exploration of the history and development of Chinese orchestral music in Canada and its impact on identity and community. She worked with CMST faculty and students to develop a program that forged cultural connections through music.
Project title: "Cultural connections through music" (2022). Final report here and video summary here.
---
Karen Headlam Cyrus, Ph.D., LRSM, OCT
Group piano pedagogy
Pan-African Music Repertoires
Repertoire and Representation
Karen Cyrus is the Helen Carswell Research Associate (2017 to 2021). Her research interests include pan-African children's music, group piano pedagogy, community music practices, and intersections between musicianship and second language acquisition: "music as a second language." She holds an LRSM in Piano Pedagogy, MA degrees in ethnomusicology and applied linguistics, a Ph.D. in ethnomusicology, and she is a member of the Ontario College of Teachers.  Karen started teaching group piano classes in 1993 in her piano studio in Jamaica; then, after migrating to Canada, she taught group piano classes at York University while earning her doctorate (2015). She is now a regular workshop facilitator on group piano pedagogy.
Her recent exposition on the nature and definition of repertoire development was recently published in The Sage Encyclopedia of Music and Culture (2019) and her research on participatory music-making in diasporic contexts has been published in Carnival: Theory and Practice (Africa World Press, 2013) and MUSICultures (2014). Karen has also written a series of music education textbooks with cultural content from the Caribbean – Music for Big Ants and Little Ants (1998) and Caribbean Integrated Music (2002/04) – as well as music curricula for community music programs in Toronto. She co-founded and is the music director of  T. Mento, a Toronto-based band that seeks to preserve the musical style of Jamaican mento music.
See Karen's 2018 final report
Email: kcyrus@yorku.ca
---
Barbara Evans
Barbara Evans, Associate Professor in the Department of Cinema and Media Arts, has worked extensively as a film director, producer, writer, researcher and editor. A graduate of the University of British Columbia and the National Film and Television School (UK) in film direction, she has worked in the UK for educational television, the BBC, ITV and on films sponsored by the British Film Institute. She was a founding member of the London Women's Film Group and the British Newsreel Collective. In Canada, she has worked as editor for the National Film Board on such documentaries as Wonderland and Bitter Medicine, and on the feature films Latitude 55 and Walls.
Read more about Professor Evans here.
Project title : "Programming youth media arts via sight, sound, and storytelling modules". Read more about Professor Evans' project here with her final report found here.
---
Sharon Hayashi
Sharon Hayashi is Associate Professor and Chair of the Department of Cinema and Media Arts at York University. Hayashi's research focuses on the intersection of care, community and media in Japan and North America, working with local knowledge to envision social futures. Visualizing and archiving the spatial practices and networks of care and mutual aid of artistic and social collectives, recent projects experiment with participatory, sensory, socially engaged, and interdisciplinary approaches. Current projects include Mapping Tokyo Olympics 3.0, a collaborative sensory archive of the recurring displacement of precarious communities that combines digital storytelling methods, 360-degree video, sound recording, and archival resources. Using play to intervene in and reimagine social problems, the creative practice ethnography Awa Money/Our Money, a local currency game co-designed by local residents, promotes and reimagines wellness and sustainability in rural Japan.
Read more about Professor Hayashi here.
Project title: "Programming youth media arts via sight, sound, and storytelling modules". Read more about Professor Hayashi's project here. Her final report can be found here.
---
Walter S. Gershon, Ph.D.
Music technology programming
Walter S. Gershon is an associate professor in the School of Teaching, Learning & Curriculum Studies, served as Provost Associate Faculty for Diversity, Equity & Inclusion (2014-2017) and is LGBTQ Affiliate Faculty at Kent State University. His scholarship focuses on questions of social justice about how people make sense, the sociocultural contexts that inform their sense-making, and the qualitative methods used to study those processes. Although his work most often attends to how marginalized youth negotiate schools and schooling, Walter is also interested in how people of all ages negotiate educational contexts both within and outside of institutions.
In addition to peer reviewed articles, book chapters, and guest edited special issues, Dr. Gershon is the author of two recent award-winning books—Curriculum and Students in Classrooms: Everyday Urban Education in an Era of Standardization (Lexington Books, 2017) and Sound Curriculum: Sonic Studies in Educational Theory, Method, and Practice (Routledge, 2017). An edited volume, Sensuous Curriculum: Politics and the Senses in Education (IAP), is currently in press.
See Walter's 2019 Final Report, including links to his following publications:

Email: wgershon@kent.edu
Website: http://www.waltergershon.com
---
Munjeera Jefford, M.Ed., Ph.D. Candidate
Munjeera is a Ph.D. student at York University in the interdisciplinary department of Social and Political Thought, LAPS. She was previously an ESL instructor and supervisor with the Toronto District School Board for over 15 years. Munjeera's research interests include decolonizing education management. Her Helen Carswell research project aims to help community music teachers integrate inclusive teaching strategies in their classes through "funds of knowledge," a decolonizing instructional strategy.
See Munjeera's 2021 Final Report
Email: munjeera@yorku.ca
---
Joel Ong,  Ph.D.
Data Mapping Music Making
Music technology programming
I am a new media artist whose works are characterized by systems of fluidity between software and hardware paradigms. At my current role as Assistant Professor at the Department of Computational Art in York University. My research and pedagogy focus on Creative Coding, Physical Computing and Digital Fabrication, though the conceptual explorations underpinning these practices often span a wide variety of cross disciplinary methodologies.  My current research casts elemental media (such as wind or rain) in the environment in a triptych of forms – in vivo, in vitro and in silico – symptomatic of the way computational creativity is becoming an indispensible resource for scientific explorations of the environment.
With the Carswell research group, my work focuses on the narrative potential of everyday life for RPSM students and hopes to equip students with digital tools to make the most of their weekly lessons.  While focusing on pedagogical strategies within demands of digital literacy today, I aim to complement the project with elements such as student-led outpours of narrative field recording, music composition, improvisation etc., computational visualizations, mobile app building and more.  My personal work can be found at ark  frequencies.com and my Institutional profile here:  https://ampd.yorku.ca/profile/joel-ong/
AMPD Profile: https://ampd.yorku.ca/profile/joel-ong/
See Joel's 2019 Final Report, including links to his following publications:

Email: joelong@yorku.ca 
Website:  www.arkfrequencies.com
Phone: 416.736.2100 ext 77322
---
Cathy Pavlik, Ph.D. Candidate
Trauma informed pedagogy
Cathy Pavlik is a voice teacher (ARCT) with the RCM (advanced specialist), and holistic academic skills tutor (OCT).  Following a successful career as a public school teacher, grades 1-12, (B.Ed) she auditioned for a spot in the classical voice program at York (M.A.), where she began to work through her own performance anxiety through research, practice and performance.
Cathy is a PhD. candidate in the Music Department.  Her Ph.D. research is focused on the causes, coping and cures for performance anxiety.  She has also begun investigating the impacts of trauma and Adverse Childhood Experiences on education and performance. Cathy is a certified emotional success coach, and EFT practitioner.  She helps students and musicians to release emotional blocks to move towards peak performance.
See Cathy's 2018 Final Report
See Cathy's 2019 Final Report
Email: cathypavliksings@gmail.com
Website: www.catherinepavlik.ca 
---
Sam Tecle,  Ph.D. Candidate
Asset Mapping in Jane and Finch
Sam Tecle has been a community worker and advocate for over 15 years. He has worked with the Jane and Finch Boys and Girls Club, the Toronto District School Board, Youth Leaps, Success Beyond Limits and currently with York University's Jean Augustine Chair in Education, Community & Diaspora.
He has worked in both traditional and alternative classrooms and always advocated for the tearing down of barriers racialized youth face in the education system. Sam has also spearheaded the first official program offered by the TDSB aimed to reintegrate youth who have had contact with the criminal justice system, offering both educational credits and reintegration services. In addition, Sam has been a commentator on youth issues, violence and police interactions in the Globe and Mail, CBC's Metro Morning and The Current.
Sam is currently completing his PhD in the Sociology Department at York University and his areas of research focus include Black and Diaspora Studies, Urban Studies and Sociology of Education. His dissertation focuses on the experiences and perspectives relating to Blackness and Black identification of East African Diasporas across the UK, Canada and the US. His dissertation (2018) is titled:  Black Grammars: On Difference and Belonging. Sam is also Co-Chair of York University's Black Graduate Students' Collective (BGSC) which works towards better experiences of Black graduate students at York.
Email: samtecle@yorku.ca
Learn about Sam's research here
---
Jamie Whitecrow
Jamie Whitecrow is a self-taught artist and filmmaker from Seine River First Nation, Treaty #3, based out of Toronto, ON. Her practice includes writing, visual art, music, filmmaking, and performance. She has an educational background in philosophy and Indigenous community development, and is completing her MFA in Film Production at York University.
Project title: "Programming youth media arts via sight, sound, and storytelling modules". Read more about her project here.
Read Jamie's final report (2022) .
---
Salah Wilson, Ph.D.
Steelpan Programming
Intergenerational pan programming
For the last fifty years, steelpan development has been a hobby, a means of livelihood, a cultural expression, a focus of study, and a passion for me. It has taken me from my place of birth Trinidad— where this instrument originated— to Montreal in 1973, where I have spent the most of my life to date, and finally to Toronto where I began my studies since 2012 at York University.
I am presently a PhD. candidate in the Music Department and my main focus of study is steelpan development. I see the involvement with Carswell and the RPSM as a vehicle to pursue this concept, at the same time producing relative programs and ways and means to assist various organizations. I look forward to a continuing relationship with Carswell and the RPSM.
Learn about Salah's research here
See Salah's 2018 Final Report
See Salah's 2019 Final Report
Email: sal_wils@hotmail.com
Website: www.steelpanplus.com