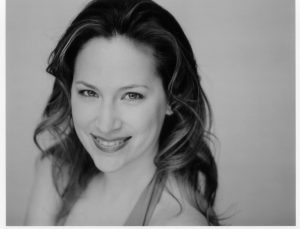 Sophie Bisson
Sophie Bisson is an opera singer and a doctoral candidate at York University where she is a graduate research associate of the Robarts Centre for Canadian Studies (RCCS) and co-editor of RCCS's Canada Watch (Spring 2022 edition). She is also the creator and editor of the online Encyclopedia of Canadian Opera (spring 2022).
A recipient of the Sunnuz Sarah Taheri Graduate Award in Fine Arts and a Helen Carswell Research Grant, she has written numerous reviews and articles featuring Canadian musical content. She has presented on topics that include how institutional policies influence the creation of opera in Canada, re-righting the wrongs of Louis Riel's Kuyas, the evolution and themes of the Canadian aria, and articles on the revival of Claude Vivier's opera Kopernikus. She also presents on and guides others through the challenges and possible solutions for disseminating large-scale digital humanities projects in music and in the arts in general.
Sophie's dissertation examines the representation of women in nine twenty-first century Canadian operas and her Helen Carswell research project revisits Canadian operatic history with an inclusive lens to highlight Black opera companies, works, and artists.   
Project title: "Black Opera: A showcase of Black opera companies, works and artists"
---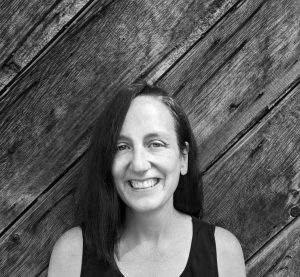 Andrea Emberly
Andrea Emberly is an ethnomusicologist and Associate Professor in the Children, Childhood & Youth program at York University. Her work focuses on the study of children's musical cultures and the relationship between childhood, wellbeing, and musical arts practices. Her work intersects with music sustainability in terms of how children and young people access, innovate, and mobilize musical arts practices within their communities and beyond. She is currently working on several community-led collaborations with refugee and newcomer children and young people, community organizations, and refugee settlement agencies across the GTA and internationally. These projects explore how children and young people mobilize music and arts as a means to push-back against the silencing of children's voices through processes of migration and displacement. These projects are committed to community-led knowledge mobilization, transforming the ways we use research with children and young people as a tool for change.
Project title: "Singing Our Stories Together: Supporting community-based music programs for equity-seeking young people through creative arts-based pedagogies"
---
Honor Ford-Smith
Honor Ford-Smith is Associate Professor in Cultural and Artistic Practices for Environmental and Social Justice in the Faculty of Environmental Studies at York University. Her research focuses on community-based performance and politics in the context of the Caribbean and its diaspora. She has held fellowships at the Radcliffe Institute for Advanced Study at Harvard University, Amherst College and the Rockefeller Foundation Bellagio Center. A Jamaican and Canadian director and scholar, Ford-Smith began her work in the context of social and political movements in Jamaica in the 1970s. Stirred by the anti-colonial and panAfricanist reggae music of the time and mentored by Caribbean writers like George Lamming, Kamau Brathwaite and Dennis Scott, she emerged as a theatre director and scholar committed to community-based collaborative performances that stressed oral testimony, social history, autobiography and ritual forms in search of intersecting forms of social justice. As founding artistic director of the Sistren Theatre Collective, an early Black and Caribbean feminist organization, she researched women's lives and histories and, with the collective, produced a repertoire of plays which toured the world, a collection of oral histories Lionheart Gal: Lifestories of Jamaican women (UWI Press 2006). Sistren became an important and much studied example of cultural activism in the global south.
On moving to Canada, Ford-Smith focused on performance as a site of knowledge production that engendered anti-imperial nationalism in postcolonial Jamaica. Her body of work includes several publications and articles in scholarly journals: anthologizing plays of the period in 3 Jamaican Plays: A Postcolonial Anthology (1977–1987); writing on the pedagogy and politics of Marcus Garvey's UNIA (Interventions: International Journal of Post-colonial Studies, Vol. 6, Number 1, 2004); "The Body and Performance in 1970s Jamaica: Toward a Decolonial Cultural Method." (Small Axe, vol 23 no 1, 2019); "The Ghost of Mikey Smith: Space, Performance and Justice." (Caribbean Quarterly, Vol. 63. Issues 2–3. 2017); and more. Her SSHRC funded research on memory and violence in Jamaica and Toronto 2007–2017 led to a cycle of performances entitled Letters from the Dead which witnessed and mourned the effects of state sanctioned violence in Jamaica and elsewhere.
Project Title: "Oral History, Food Justice and Music Making". Learn more about the project here.
---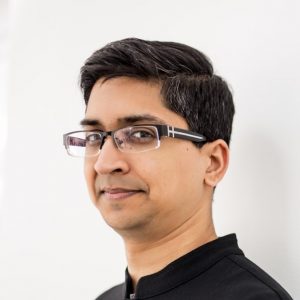 Pratik Gandhi
Pratik Gandhi is a conductor, percussionist, clinician, and researcher based in Toronto.  He currently serves as music director of the Rouge River Winds and vice-chair of the Concert Band Division of MusicFest Canada. Pratik is pursuing a Ph.D. in music at York University, where his research, supported by an Ontario Graduate Scholarship, investigates issues of equity and representation among wind band composers in Canada.  He has been an active member of the wind band community in Canada for over a decade, and is passionate about creating space and opportunities within it for composers from historically excluded groups. Recent publications include a feature on Cait Nishimura's "Lake Superior Suite" for WASBE World and an analysis of composer representation on Canadian festival syllabus lists for Canadian Winds. Pratik holds degrees in music education and conducting from Western University.
Project title: "Improvisation and creativity workshop for wind, brass, and percussion students (featuring guest composers)"
Hear more about Pratik's project here.
---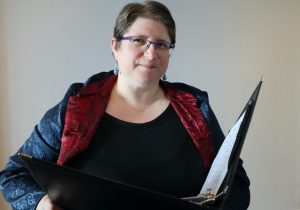 Diane Kolin
Diane Kolin is a PhD student in musicology in York University. Her diverse research interests include Critical Disability Studies, Ludwig van Beethoven, and Franz Liszt, and her dissertation focuses on professional musicians, composers, and music specialists with disabilities. Between her duties as editor in chief of the Journal of the French Beethoven Society, Diane frequently writes in journals and presents at conferences that center on both composers and offer her the unique opportunity to explore important sites of musical history. The study of Beethoven's deafness and Diane's personal history led to her research in disability and music. Her collaborations with disabled musicians in the professional musical world allow her to expose new ideas on making music more accessible to a broader audience. Diane is also a singer and music educator who advocates for more accessibility in orchestras and choirs.
Project title: "A Discovery of Adaptive Instruments"
---
Michael Palumbo
Michael Palumbo (MA, BFA) is a musician and software developer. His PhD research focuses on electroacoustic music improvisation, distributed creativity, and version control. These interests are expressed through the projects Mischmasch, a multiplayer XR modular synthesizer; the Sonic Throwable Object, a wireless musical instrument designed for differently abled children; and git show, a digital musical instrument design and composition experiment involving many composers. Michael works as an engineer and researcher at both the Alice Lab for Computational Worldmaking and Responsive Ecologies Laboratory. As a freelancer, he develops custom software for musicians and maintains open-source music software such as allhandsjs. A Toronto-based musician, Michael performs regularly in free-improvisation ensembles, and produces the monthly online concert series Exit Points which in response to isolation during the pandemic has introduced over 200 musicians to online performance, including free one-on-one lessons for each performer tailored to helping them set up their home studio.
Project title: "A Community Music Approach to Collaborative Sonic Spaces in WebXR"
---
Kael Reid
Kael has a PhD in Education from the University of Toronto. During their doctoral research, they investigated how songs composed and recorded from interviews conducted they with 2SLGBTQI+ families opened up dialogue with equity-seeking youth about gender, sexuality, embodiment, and relationships. Currently, Kael is a Postdoctoral Fellow and instructor in the Faculty of Liberal Arts and Professional Studies at York University where they are working on two arts-based research projects with newcomer and refugee young people. These projects examine how community music programs, songwriting, recording, performance, and other art-based activities enable newcomer and refugee youth to develop and extend their expressive skills, build connections and collaborative networks, and experience personal empowerment and wellbeing. As part of this research, Kael uses an innovative, participatory research creation method they developed called, "collaborative ethnographic songwriting." A robust method for collecting, analyzing, and disseminating research data through music, collaborative ethnographic songwriting supports equity-seeking people to compose, record, and document their stories in song. Using this method, Kael has worked as an artist researcher on various research digital storytelling and research-informed theatre projects as well as with 2SLGBTQI+ individuals and families, breast cancer survivors, newcomer and refugee youth.
Kael is also singer-songwriter and whip smart wordsmith, and they're sure to entertain. Slam-storytelling meets many a queer-themed tune in Kael's songs, which just might have you rolling in the aisles with laughter or dabbing tears from your eyes. With five albums under their belt and a slew of singles, they perform at live music venues, music and Pride festivals, youth and arts conferences, universities, public schools, union meetings, and in people's living rooms and back yards. Kael also combines musical activism with public pedagogy by facilitating workshops, giving concerts, and delivering musical keynote addresses for universities and colleges, secondary schools, and conferences, community service organizations.
pronouns: they/she
Postdoctoral Fellow
Faculty of Liberal Arts and Professional Studies
York University, Toronto, ON
kael@kaelreid.com
katereid@yorku.ca
Project title: "Singing Our Stories Together: Supporting community-based music programs for equity-seeking young people through creative arts-based pedagogies"
---
Kurt Thumlert & Jason Nolan
Kurt Thumlert is associate professor in the Faculty of Education at York University in Toronto, Canada, and is an executive member at York's Institute for Research on Digital Literacies (IRDL) as well as research associate at the TMU Responsive Ecologies Lab (RE/Lab). His current research focuses on informal learning, new media and technology studies, production pedagogy, and learning through making with sound-based technologies and non- traditional musical tools supportive of more inclusive sound-based learning. He is most recently associated with The Canadian Accessible Musical Instruments Network (CAMIN), a project oriented to disability-led design of instruments and sound-making tools.
Dr. Jason Nolan is autistic, the John C. Eaton Chair in Social Innovation and Entrepreneurship, and associate professor in Early Childhood Studies at Toronto Metropolitan University. Nolan directs the Responsive Ecologies Lab (RE/Lab) and the Experiential Design and Generative Environments (EDGE) lab. Nolan's background in designing adaptations for disabled children stems from a perspective of design initiated by children and their families with the goal of supporting their sensory exploration of the world around them and the communication of their goals, interests and needs to their carers. Nolan's research approach focuses on reconceptualizing music education and exploration of acoustic sensory information in early learning environments from a social justice lens of equity, diversity and inclusion.  Nolan's present work is on the missing modality of auditory sensory play and exploration with DIY electronic and found objects, and innovations in pedagogical approaches for marginalized communities through three SSHRC funded projects: Canadian Accessible Musical Instrument Network, Facilitating Anti-Ableist Remote Music Making and Sounding off: Learning, communicating and making sense with sound.
Project title: "Sounds out of bounds: Exploring sound, music and learning with modular synthesizers"