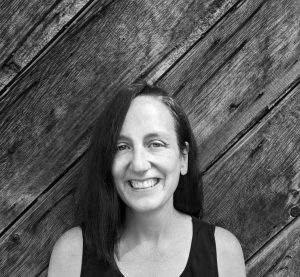 Andrea Emberly
Andrea Emberly is an ethnomusicologist and Associate Professor in the Children, Childhood & Youth program at York University. Her work focuses on the study of children's musical cultures and the relationship between childhood, wellbeing, and musical arts practices. Her work intersects with music sustainability in terms of how children and young people access, innovate, and mobilize musical arts practices within their communities and beyond. She is currently working on several community-led collaborations with refugee and newcomer children and young people, community organizations, and refugee settlement agencies across the GTA and internationally. These projects explore how children and young people mobilize music and arts as a means to push-back against the silencing of children's voices through processes of migration and displacement. These projects are committed to community-led knowledge mobilization, transforming the ways we use research with children and young people as a tool for change.
Project title: "Singing Our Stories Together: Supporting community-based music programs for equity-seeking young people through creative arts-based pedagogies.
---
Kael Reid
Kael has a PhD in Education from the University of Toronto. During their doctoral research, they investigated how songs composed and recorded from interviews conducted they with 2SLGBTQI+ families opened up dialogue with equity-seeking youth about gender, sexuality, embodiment, and relationships. Currently, Kael is a Postdoctoral Fellow and instructor in the Faculty of Liberal Arts and Professional Studies at York University where they are working on two arts-based research projects with newcomer and refugee young people. These projects examine how community music programs, songwriting, recording, performance, and other art-based activities enable newcomer and refugee youth to develop and extend their expressive skills, build connections and collaborative networks, and experience personal empowerment and wellbeing. As part of this research, Kael uses an innovative, participatory research creation method they developed called, "collaborative ethnographic songwriting." A robust method for collecting, analyzing, and disseminating research data through music, collaborative ethnographic songwriting supports equity-seeking people to compose, record, and document their stories in song. Using this method, Kael has worked as an artist researcher on various research digital storytelling and research-informed theatre projects as well as with 2SLGBTQI+ individuals and families, breast cancer survivors, newcomer and refugee youth.
Kael is also singer-songwriter and whip smart wordsmith, and they're sure to entertain. Slam-storytelling meets many a queer-themed tune in Kael's songs, which just might have you rolling in the aisles with laughter or dabbing tears from your eyes. With five albums under their belt and a slew of singles, they perform at live music venues, music and Pride festivals, youth and arts conferences, universities, public schools, union meetings, and in people's living rooms and back yards. Kael also combines musical activism with public pedagogy by facilitating workshops, giving concerts, and delivering musical keynote addresses for universities and colleges, secondary schools, and conferences, community service organizations.
pronouns: they/she
Postdoctoral Fellow
Faculty of Liberal Arts and Professional Studies
York University, Toronto, ON
kael@kaelreid.com
katereid@yorku.ca
Project title: "Singing Our Stories Together: Supporting community-based music programs for equity-seeking young people through creative arts-based pedagogies"
---
Kurt Thumlert & Jason Nolan
Kurt Thumlert is associate professor in the Faculty of Education at York University in Toronto, Canada, and is an executive member at York's Institute for Research on Digital Literacies (IRDL) as well as research associate at the TMU Responsive Ecologies Lab (RE/Lab). His current research focuses on informal learning, new media and technology studies, production pedagogy, and learning through making with sound-based technologies and non- traditional musical tools supportive of more inclusive sound-based learning. He is most recently associated with The Canadian Accessible Musical Instruments Network (CAMIN), a project oriented to disability-led design of instruments and sound-making tools.
Dr. Jason Nolan is autistic, the John C. Eaton Chair in Social Innovation and Entrepreneurship, and associate professor in Early Childhood Studies at Toronto Metropolitan University. Nolan directs the Responsive Ecologies Lab (RE/Lab) and the Experiential Design and Generative Environments (EDGE) lab. Nolan's background in designing adaptations for disabled children stems from a perspective of design initiated by children and their families with the goal of supporting their sensory exploration of the world around them and the communication of their goals, interests and needs to their carers. Nolan's research approach focuses on reconceptualizing music education and exploration of acoustic sensory information in early learning environments from a social justice lens of equity, diversity and inclusion.  Nolan's present work is on the missing modality of auditory sensory play and exploration with DIY electronic and found objects, and innovations in pedagogical approaches for marginalized communities through three SSHRC funded projects: Canadian Accessible Musical Instrument Network, Facilitating Anti-Ableist Remote Music Making and Sounding off: Learning, communicating and making sense with sound.
Project title: "Sounds out of bounds: Exploring sound, music and learning with modular synthesizers"